ROund up your friends, family and running buddies for the 2017 Back on My Feet Marathon Relay!

NEW DATE sunday, september 24 | Relay begins at 8 Am
White river state park

Join Back on My Feet for a Marathon #RelayStyle on Sunday, September 24! Teams of 1, 2, 3, 4 or 6 individuals will race 26.2 miles
via a 2.2 mile loop through the beautiful White River State Park!

Music, snacks, friendly competition and THE BEST time you'll have going 26.2 - guaranteed!
All paces and abilities are welcome to participate!

registration pricing:
Individual Marathon
- $50
Two, Three & Four Person Relay Teams - $45/Person
Six Person Relay Team - $40/Person
rEGISTRATION IS NOW OPEN - relay prices will increase on August 1!
important registration information:
For teams of two or more participants, those individuals can register separately. The first individual to register will be designated as the "Team Captain."
To join a team, please select "Join an Existing Team" and enter in your team name. If you are unsure of your team's name, you can search the registration list to find your team.

If you are the first person to register for your team, please select the "Create a Team" option and follow the registration steps.

Each registrant will be charged individually.

If you have any registration questions or need assistance, please contact Liz Navarre (liz.navarre@backonmyfeet.org.)
race with a back on my feet member:
Teams are welcome to race with a Back on My Feet member at the Marathon Relay! Please send the following information to Liz Navarre by September 13 and we will get a member registered on your team!
Important Bomf team member info:
-
Desired number of Back on My Feet members that you would like to participate on your team (can have up to 5 members)
- Confirm your Team Registration & Team Name (i.e. Six Person Team, "Team Indy")
- Average/Desired Team Pace
- Please confirm if you and your team would like to sponsor your Back on My Feet team members
RACE SWAG:

Back again for 2017 - Relay participants have the option to UPGRADE to a long sleeve race team for an additional $10!
All Relay participants will receive a super soft short sleeve racing tee.

Add meaning to your marathon relay race:
Relay participants can add meaning to their Relay miles by signing up to FundRace for Back on My Feet!
As a FundRacer, you will help raise awareness about our mission, the Marathon Relay race and raise additional funds for our program.
All Marathon Relay FundRacers will receive:
- Special recognition on Race Day (Sunday, September 24)
- Special BoMF FundRacer SWAG
- The Opportunity to impact the lives of one of our members
Race with a JMF run2gether crew: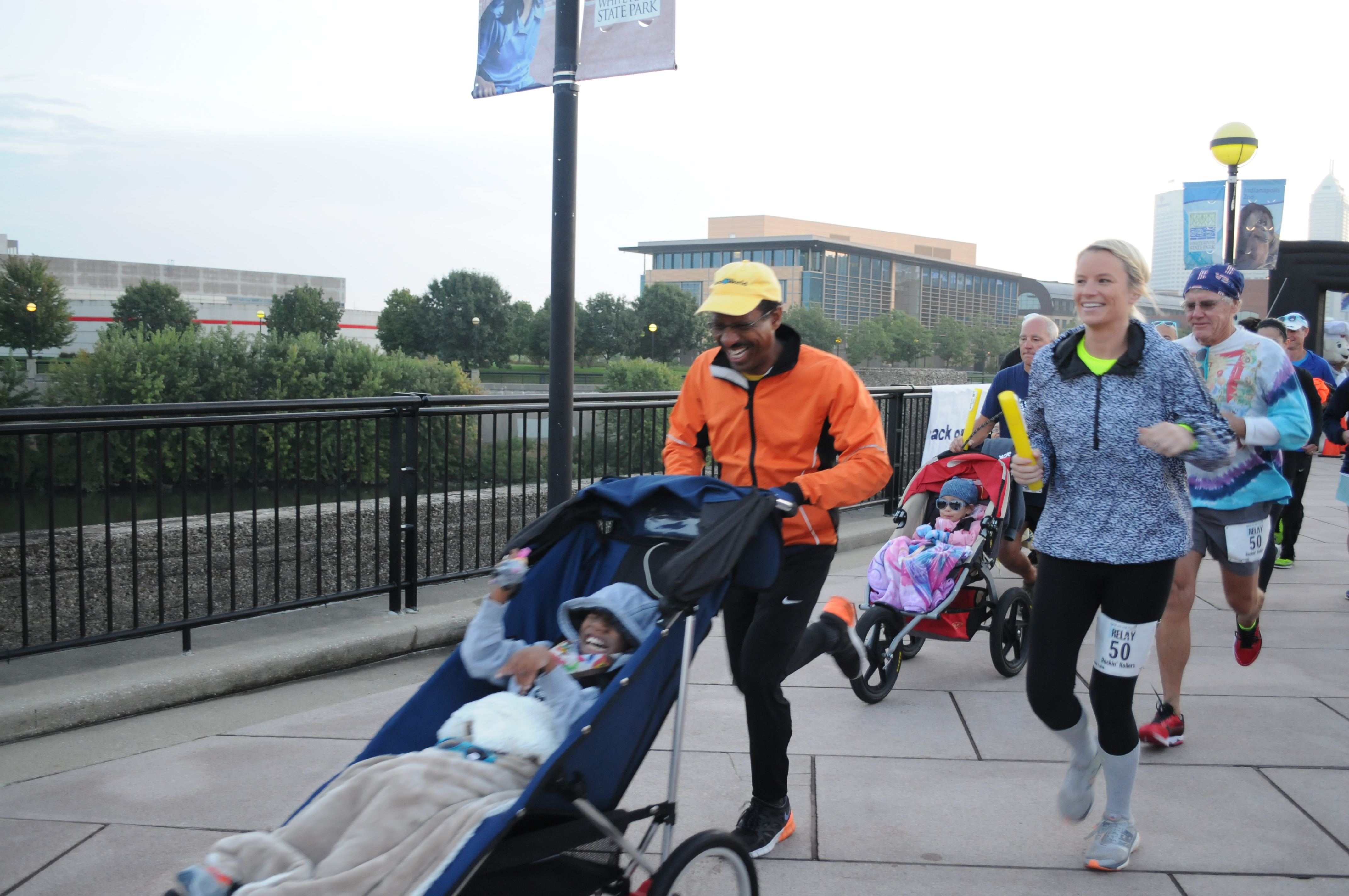 In 2016, Back on My Feet deepened their partnership with the Joseph Maley Foundation (JMF) by
participating in the run2gether program. The run2gether program pairs individuals with disbilitities between the ages of six and 21 with a group of experienced runners. The athletes with the disabilities are known as
the captains, while the experienced runners are their crew. The crew pushes the captain in a specially
designed running/racing wheelchair.

We are excited to offer this opportunity again for the 2017 Relay. To sign up to participate on a crew team
or to learn more about the run2gether program, JMF and their initiatives, please contact Molly Shawhan, Assistant to Programs with JMF.

Teams and Walkers
Select a Team: