Runners & Fundracers
Select A Team:
Sample Event


Join us on sample date

Registering as a Back on My Feet FundRacer will entitle you to a practically FREE registration fee and allow you to set up your own campaign page. The FundRacing minimums are:
| | |
| --- | --- |
| Race Type | FundRacing Minimums |
| Marathon | $250 |
| Half Marathon | $200 |
| Marathon Relay Single Leg | $100 |
| 5K | $100 |
| BaltiMORON-a-Thon | $300 |
| Gimme the Experience | $75 |

What is FundRacing? FundRacing is an enjoyable fundraising experience that will guarantee you an entry into your favorite or sold out races. Back on My Feet will provide you with a race entry into some of the most popular races around the country, in return, you will commit to raising a set amount of money that will go directly to Back on My Feet to help grow our program and move more Residential Members towards self-sufficiency.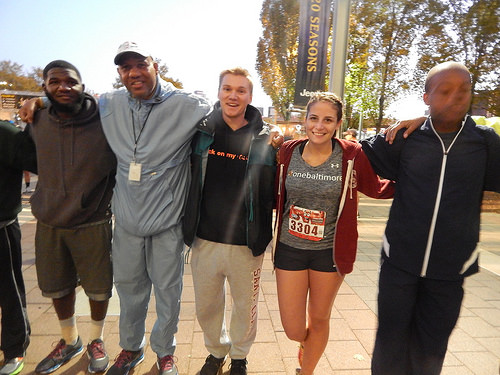 Rules and Instructions:
Proceed with registration as prompted. Choose the FundRacing option in the selection process. Fill out registration information. Your entry fee will go down to $1, which is built into your total amount raised!
Anything over $100 will receive exclusive fun BoMF FundRacing Swag
You will receive an e-mail when you register which will include links to set up a FundRacing page.
This individual page allows you to then ask donations from your brother, chess team, neighbor, aunt or pet, spread the word about your involvement with BOMF and help support the cause!
IF MINIMUMS ARE NOT MET you will be charged at the time of the race. Fee must be received in order to participate!
If you have any questions please contact Sydney Van Horn at sydney.vanhorn@backonmyfeet.org for more information.
Additional information: